Equity 101: The Equity Framework
Equity Is Key to Eliminating Achievement Gaps
Is your school capable of helping all students achieve at grade level, regardless of race, income, ethnicity, gender, and language? Best-selling author Curtis Linton provides the foundation necessary for school leaders and teachers to address systemic limitations, racism, and biases.
This first volume of a four-book series describes school systems that have changed their climate, culture, and practices to foster high levels of achievement, and outlines the simple yet powerful Equity Framework: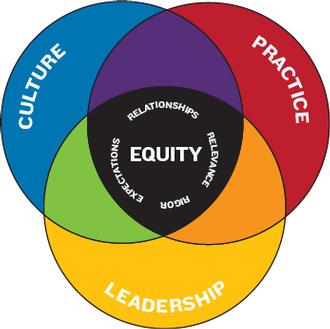 Readers have access to online videos are keyed to the series' central concepts. Ultimately, this powerful series provides a clear vision and action plan for creating a system where excellence in the norm for all students.
From the Book
Prologue:
This is a book about equity in education. Equity is not about equal treatment of all students. Rather, it is about equal outcomes achieved by individualizing the instruction and support for each and every child. Equity is about all students succeeding, especially when measured according to differences such as race, ethnicity, socioeconomic status, gender, language, family background—the list of diversities within our students goes on and on. This effort has been traditionally referenced as "closing the achievement gaps" between students from the dominant White middle-class norm and students from traditionally underserved or oppressed populations. Building equity in education shifts the focus of responsibility for academic achievement from the students to the professional administrators and teachers who are the educators in the school. Students have to do their part, but the adults in the building need to teach in a way so that all students can succeed.

Throughout this book, when I use the term diverse to describe students, I am referencing directly the racial and other characteristics that set apart a student from the dominant White and middle-class norms that have so defined the practices and culture of our schools. Serving one "norm" rather than the vast diversities now so apparent in today's students only guarantees the continuation of educational inequities. As educators work to directly address their schools' racial and other inequities, they will accomplish equity, which is eliminating student achievement disparities, and lifting all students to high levels of success.

For schools to achieve this, educators need to address equity at three levels: personal, institutional, and professional. In the first three chapters, I follow this format: ….